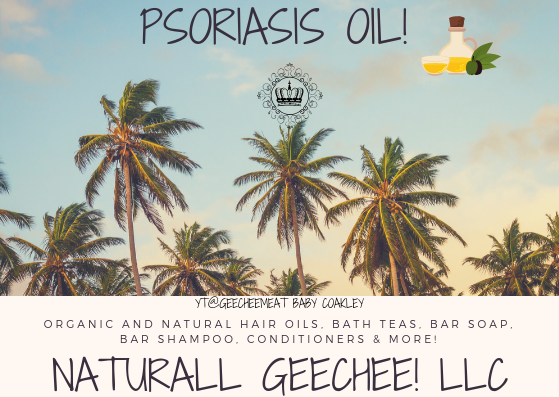 Psoriasis Oil & BALM!
I decieded to come up with a more natural remedy other than your regular topical steroids. My oil will not cure psoriasis, but it can assist in a temporary releif.
Made with: carrier oils, and essential oils.
*The balm is balm/whipped made and very creamy. Its made with neem oil, geranium and more.
Oil:
Black seed
Argan oil
Castor oil
Coconut oil
Peppermint EO
Geranium EO
Lavender EO
Tea tree EO
Copaiba oil
Thyme EO
Balm:
Shea butter
Cocoa butter
Castor oil
Sweet almond- grapeseed- sunflower
Neem oil
Vit e
4oz bottle w/pipet 1oz bottle w/dropper:
Psoriasis is a chronic autoimmune condition that causes the rapid buildup of skin cells. This buildup of cells causes scaling on the skin's surface. Inflammation and redness around the scales is fairly common. Typical psoriatic scales are whitish-silver and develop in thick, red patches.